Decades of progress on gender equality are under threat from COVID-19 but we know that, with the right support, women entrepreneurs living in poverty can contribute to community resilience and economic recovery. CARE's Women Mean Business campaign puts a spotlight on women entrepreneurs and shows the importance of investing in them, now more than ever.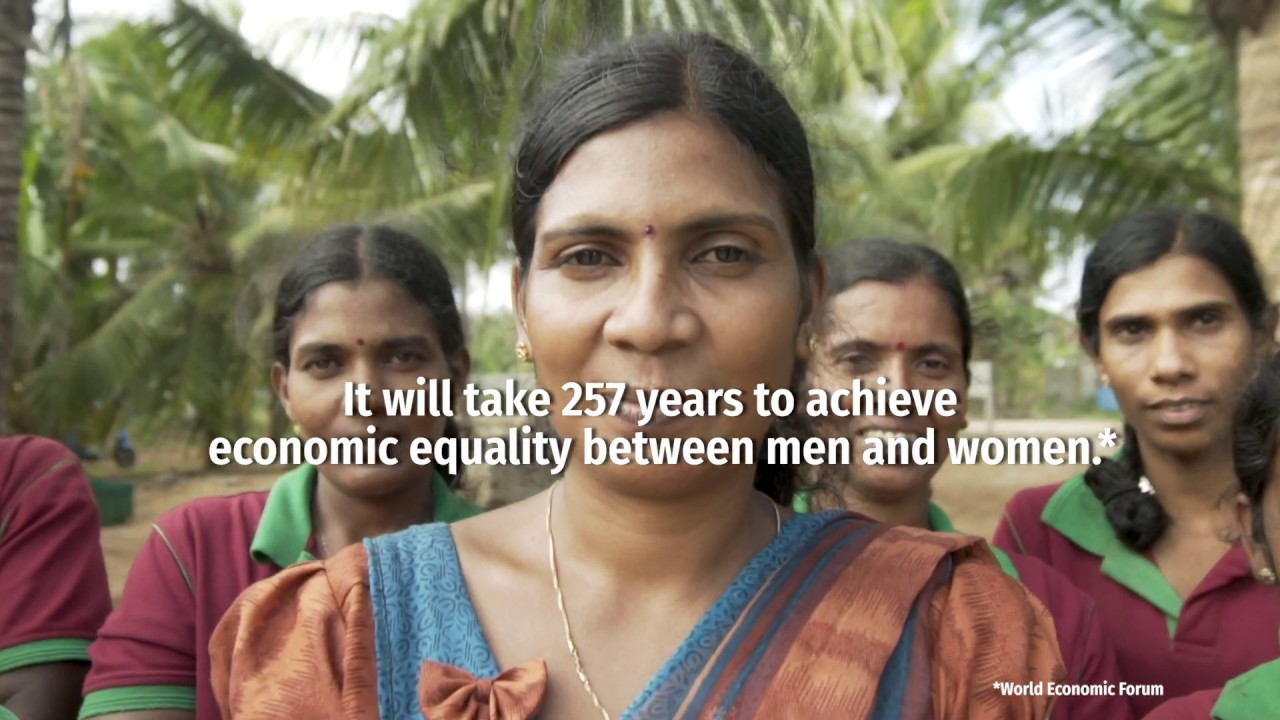 Play
Read the stories of Sékongo, María Julia, Basma & Sharmini who are featured in this film.
Disproportionate impact
COVID-19 is having a devastating and disproportionate impact on women entrepreneurs living in poverty. In Sri Lanka, 90% of women entrepreneurs from our programmes say their income has decreased and their supply chains are disrupted. In Guatemala, 96% do not have enough money to buy basic food items and 96% say the crisis has increased unemployment in their community. Many of these women are now on a precipice, at risk of falling straight back into poverty.
Successful business women
Our Women Mean Business Global Report, reveals new data showing daily enterprise earnings of programme participants increased by an average of 91% across all countries. Through CARE's Women in Enterprise programme, funded by the H&M Foundation, almost 270.000 women have been supported since 2014, including through improved business conditions and access to funds and skills.
Despite growing up hungry or with no education, across the globe women have shown themselves to be astute in business, with their success meaning they are able to support their families and even elevate whole communities out of poverty. But this progress is now under threat. CARE Netherland's Chief Executive, Reintje van Haeringen, explains:
"The international COVID-19 response needs to include a strong focus on the economic justice and rights of women. We will not stand by and watch decades worth of progress on fighting poverty and gender equality lost through this crisis. Not only do we need to invest in resources to support women, but we also need to help change entrenched social beliefs by working together with men."
Incredible resilience
Despite the disastrous impact of COVID-19, this is not the first time many of these women have faced a crisis. Many have coped with civil war, the Ebola epidemic or natural disasters. Women entrepreneurs are resilient and are already identifying ways to adapt and diversify their businesses to get through the pandemic. Sharmini, who runs a small factory processing coconut husks in Sri Lanka and who fronts the Women Mean Business report said:
"Coronavirus hit us hard at the start as we are so dependent on the export market. We had to completely stop production, we had no income and I had large amounts of stock I could not sell. I feared that my business would completely collapse and I was worried about not being able to pay my staff. Now we are diversifying and building a more local customer base. We are also developing new products."
5 key components for enterprise development
Through its Women in Enterprise programme, CARE has identified five key components that have an extremely positive impact on enterprise development and women's economic justice and rights. These components have been shown to work, alongside a flexible approach and the ability to innovate:
Action Needed!
There are multiple reasons why investing in women entrepreneurs is both the smart and the right thing to do. Read our Business Case and Recommendations here.
As we navigate through the COVID-19 pandemic, we call on decision makers to support women-led micro and small enterprises as an explicit part of international COVID-19 responses. Pre COVID-19 the World Economic Forum predicted that it would take 257 years before there was economic parity between men and women. This will no doubt be pushed even further back as a result of the global pandemic. CARE cannot and will not wait.
More investment in women entrepreneurs is urgently needed, now more than ever.
To find out about partnering with CARE to support women entrepreneurs living in poverty. Please contact Solange Hai: hai@carenederland.org